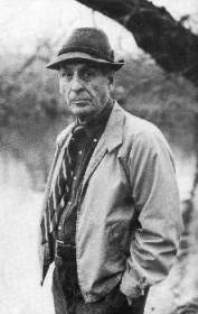 Norman Maclean
Born:
1902 in Clarinda, Iowa
Died:
1990 in Chicago, Illinois
Pen Name:
None
Connection to Illinois
: Maclean taught at the University of Chicago from 1940 until his retirement in 1973.
Biography
: Norman Maclean grew up in and around Missoula, Montana. He received his BA from Dartmouth College, where he served as editor-in-chief of the humor magazine the ''Dartmouth Jack-O-Lantern''. He began graduate studies in English at the University of Chicago in 1928. Three years later he was hired as a professor at University of Chicago. In 1940, Maclean earned his doctorate from the University of Chicago. During his last decade on the Chicago faculty, Maclean held an endowed chair as William Rainey Harper Professor of English. After his retirement, he began to write down the stories he liked to tell. His most acclaimed story, ''A River Runs Through It and Other Stories'' was published in 1976. ''A River Runs Through It'' was later adapted into a motion picture directed by Robert Redford.
---
Awards
:
Primary Literary Genre(s):
Fiction; Non-Fiction; Other
Primary Audience(s):
Adult readers
Website:
http://www.press.uchicago.edu/books/maclean/index.html
Norman Maclean on WorldCat :
http://www.worldcat.org/search?q=norman+maclean
---
Selected Titles
A river runs through it and other stories
ISBN: 9781615731138 OCLC: 756044757 HighBridge Company, Minneapolis : 2011. This modern classic and perennial bestseller is now available in an unabridged edition along with two Norman Maclean stories never before on audio. In A River Runs Through It, Norman Maclean claims that in my family, there is no clear line between religion and fly-fishing. Nor is there a clear line between family and fly-fishing ...
A river runs through it, and other stories /
ISBN: 0226500578 OCLC: 1733412 Collection of three Western stories, featuring the title piece about the relationship between a father and his two sons, bound together by love and fly fishing.
Young men & fire /
ISBN: 0226500624 OCLC: 25630633 University of Chicago Press, Chicago : 1992. On August 5, 1949, a crew of fifteen Smokejumpers, the United States Forest Service's elite airborne firefighters, stepped into the sky above a remote forest fire in the Montana wilderness. Less than two hours after their jump, all but three of these men were dead or fatally burned. Exactly what happened in Mann Gulch that day has been obscured by years of grief and controversy. Now a master storyteller finally gives the Mann Gulch fire its due as tragedy. Norman Maclean first saw the Mann Gulch fire as it still burned in mid-August 1949, and even then he knew he would one day become a part of its story. Maclean spent the last fourteen years of his life studying and reliving the fire. Young Men and Fire is the long-awaited result, a story of Montana, of the ways of wildfires, firefighters, and fire scientists, and especially of a crew, young and proud, who "hadn't learned to count the odds and to sense they might owe the universe a tragedy." This tale is also Maclean's own, the story of a writer obsessed by a strange and human horror, unable to let the truth die with these young men, searching for the last - and lasting - word. Nature's violence collides with human fallibility in Young Men and Fire. The Smokejumpers in Mann Gulch are trapped by a "blowup," a deadly explosion of flame and wind rarely encountered and little understood at the time. Only seconds ahead of the approaching firestorm, the foreman, R. Wagner Dodge, throws himself into the ashes of an "escape fire "--And survives as his confused men run, their last moments obscured by smoke. The parents of the dead cry murder, charging that the foreman's fire killed their boys. Years later, Maclean returns to the scene with two of the survivors and pursues the mysteries that Mann Gulch has kept hidden since 1949. From the words of witnesses, the evidence of history, and the research of fire scientists, Maclean at last assembles the scattered pieces of the Mann Gulch tragedy.
Young men and fire
ISBN: 9781681686929 OCLC: 975363013 Commemorates the tragic death of 12 U.S. Forest Service smokejumpers who perished in 1949 while fighting a fire in the Montana wilderness.