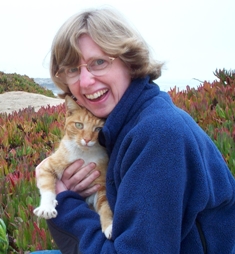 Molly MacRae
Born:
Elgin, Illinois
Pen Name:
None
Connection to Illinois
: Molly MacRae grew up in Barrington and currently lives in Champaign.
Biography
: Molly MacRae writes the Highland Bookshop Mysteries, about four women who reinvent their lives when they buy a bookshop in Inversgail on the west coast of Scotland, and the award-winning Haunted Yarn Shop Mysteries, about a textile preservation specialist in Blue Plum, Tennessee, who ends up with a depressed ghost on her hands. Molly spent twenty years in the foothills of the Blue Ridge Mountains in northeast Tennessee, where she managed the Book Place, an independent bookstore; may it rest in peace. Before the lure of books hooked her, she was the curator of the history museum in Jonesborough, Tennessee's oldest town. Her short stories have appeared in Alfred Hitchcock's Mystery Magazine for more than twenty years, and she won the Sherwood Anderson Award for Short Fiction. Molly lives with her family in Champaign, Illinois, where she connects children with books at the public library.
---
Awards
:
''More or Less''
-- Sherwood Anderson Award for short fiction
''Wilder Rumors''
-- First Prize for novel, Virginia Highlands Creative Writing Contest
"Last Wool and Testament"
-- Suspense Magazine's Best, 2012
-- Lovey Award for Best Paranormal, 2013
Primary Literary Genre(s):
Fiction; Mystery
Primary Audience(s):
Adult readers
Facebook:
https://www.facebook.com/molly.macrae.9=molly+macrae
Website:
http://www.mollymacrae.com/
---
Selected Titles
A Haunted Yarn Shop Mystery, #3: Spinning in Her Grave
ISBN: 1410470865 OCLC: 875554802 Kath Rutledge is settling in at the Weaver's Cat, her fiber and fabric shop in Blue Plum, Tennessee. But nothing, not even the ghost haunting her shop, prepares her for the mystery that will leave the whole town spinning. During Blue Plum's annual historical festival, a businessman asks to use Kath's second-floor windows in a reenactment which ends in bloodshed when local baker Reva Louise Snapp is shot with a modern-day gun.
A Haunted Yarn Shop Mystery, Book #1: Last Wool and Testament
ISBN: 045123782X OCLC: 775418016 TGIF (Thank Goodness it's Fiber) is the name of the spunky group of fiber and needlework artists founded by Ivy McClellan, Kath's beloved grandmother. Though Ivy has recently passed on, the members still meet regularly at her fiber and fabric shop, The Weaver's Cat, which Kath has now inherited. But that's only the first in a series of surprises when Kath returns to the small town of Blue Plum, Tennessee, to settle her grandmother's affairs. There has been a murder, and it turns out her grandmother was the prime suspect. Before she can begin to clear her grandmother's name, Kath encounters a looming presence in the form of a gloomy ghost. It turns out the specter has just as much interest in solving the murder as Kath. So, with a little help from the members of TGIF and a stubborn spirit from beyond, Kath sets out to unravel the clues and hook the real killer.
A Haunted Yarn Shop Mystery, Book #2: Dyeing Wishes
ISBN: 0451239563 OCLC: 795167215 On an outing to Cloud Hollow Farm to learn the art of dyeing yarn, Kath and her friends discover two bodies. Soon Kath and Geneva, the ghost who loves to play her assistant sleuth, are working on their own investigation.
A Haunted Yarn Shop Mystery, Book #4: Plagued by a Quilt
ISBN: 1410479013 OCLC: 907132975 Kath and her needlework group TGIF (Thank Goodness It's Fiber) are preparing to teach a workshop at the Holston Homeplace Living History Farm, but their lesson in crazy quilts is no match for the crazy antics of the assistant director, Phillip Bell. Hamming it up with equal parts history and histrionics, Phillip leads an archaeological dig of the farm's original dump site -- until one student stops the show by uncovering some human bones. When a full skeleton is later excavated, Kath can't help but wonder if it's somehow connected to Geneva, the ghost who haunts her shop, and whom she met at this very site. After Phillip is found dead, it's up to Kath to thread the clues together before someone else becomes history.
A Haunted Yarn Shop Mystery, Book #5: Knot the Usual Suspects
ISBN: 1410488640 OCLC: 931861034 It's time for Handmade Blue Plum, an annual arts and crafts fair, and Kath and her knitting group TGIF (Thank Goodness It's Fiber) plan to kick off the festivities with a yarn bombing. But they're not the only ones needling Blue Plum. Bagpiper and former resident Hugh McPhee had just returned after a long absence, yet his reception is anything but cozy. The morning after his arrival, he's found dead in full piper's regalia. Although shaken, Kath and her knitting group go forward with their yarn installation -- only to hit a deadly snag. Now, with the help of Geneva, the ghost who haunts her shop, Kath and TGIF need to unravel the mystery before someone else gets kilt!
A Haunted Yarn Shop Mystery, Book #6: Crewel and Unusual
ISBN: 1643134965 OCLC: 1125355993 Yarn shop owner Kath Rutledge is looking forward to the grand opening of the Blue Plum Vault, a new co-op of small shops, but rivalries and vandalism are the least of her worries when Belinda, a new shopkeeper, is found dead and the only witness is a ghost.
Lawn order /
ISBN: 1594149135 OCLC: 659756575 Five Star, Waterville, Me. : 2010. Bookstore owner Margaret Welch looks into the disturbing events--starting with poisoned pigeons and escalating to arson and murder--plaguing peaceful Stonewall, Tennessee.
My troubles :
ISBN: 9780990842873 OCLC: 907386089 Darkhouse Books, Niles, CA : ©2014.
The Highland Bookshop Mystery Series, Book #1: Plaid and Plagiarism
ISBN: 1681772566 OCLC: 940362395 Pegasus Crime 2016 "A murder in a garden turns the four new owners of Yon Bonnie Books into amateur detectives, in a captivating new cozy mystery novel"--
The Highland Bookshop Mystery Series, Book #2: Scones and Scoundrels
ISBN: 1681776200 OCLC: 1015965532 Pegasus Crime 2018 Inversgail, on the west coast of the Scottish Highlands, welcomes home native daughter and best-selling environmental writer Daphne Wood. Known as the icon of ecology, Daphne will spend three months as the author in residence for the Inversgail schools. Janet Marsh and her business partners at Yon Bonnie Books are looking forward to hosting a gala book signing for her. Daphne, who hasn't set foot in Scotland in thirty years, is--eccentric. She lives in the Canadian wilderness, in a cabin she built herself, with only her dog for a companion, and her people skills have developed a few rough-hewn edges. She and the dog (which she insists on bringing with her) cause problems for the school, the library, and the bookshop even before they get to Inversgail. Then, on the misty night they arrive, a young man--an American who'd spent a night in the B & B above Yon Bonnie Books--is found dead outside a pub. Daphne did her Inversgail homework and knows that Janet and her partners solved a previous murder. She tries to persuade them to join her in uncovering the killer and the truth. To prove she's capable, she starts poking and prying. But investigating crimes can be murder, and Daphne ends up dead, poisoned by scones from the tearoom at Yon Bonnie Books. Now, to save the reputation of their business--not to mention the reputation of their scones--Janet and her partners must solve both murders. And Daphne's dog might be able to help them, if only they can get it to stop howling--
The Highland Bookshop Mystery Series, Book #3: Thistles and Thieves
ISBN: 164313695X OCLC: 1233322860 "Out for a bicycle ride in the hills beyond Inversgail, Janet Marsh discovers the body of Dr. Malcolm Murray. The elderly Murray and his own bicycle went off the road and down a steep slope--he's sprawled in the burn at the bottom, his damaged bike in a patch of thistles on the bank. Janet calls the Police Scotland emergency number. Tire tracks at the side of the narrow road suggest a vehicle might have been involved. But if it was an accident, the driver hasn't come forward. And if it wasn't an accident. . . . But who would want the well-loved, retired doctor dead?A few days after the death, a box of vintage first editions is left on the doorstep of Yon Bonnie Books with a note: "Please look after these books. Thank you." Janet and her crew at the shop are at first delighted, and then mystified--what exactly does "look after" mean? Are they free to sell them? And what are the odd notes penciled in the margins? With a little digging, the women decide the books might belong to Malcolm Murray or his reclusive brother, Gerald. When Janet and Christine call at Malcolm's house, they find his confused, angry sister and evidence of a burglary. When they go to Gerald's modest croft house, they find the door ajar and Gerald dead inside, stabbed with a regimental dagger.While the police try to determine if the Murray brothers' deaths are connected and who's responsible, Janet and the bookshop owners try to find out how and why the box of books ended up on their doorstep. The police are interested in those questions, too, and they're more than a little suspicious. Are the Yon Bonnie women as good with burglar tools as they are with books--and at finding bodies?"--
The Highland Bookshop Mystery Series, Book #4: Heather and Homicide
ISBN: 1643135848 OCLC: 1204287962 Pegasus Crime 2020 "True crime writer Heather Kilbride arrives in the seacoast town of Inversgail, Scotland, to research a recent murder for her new book. But if that's true, why does she seem more interested in William Clark, a shadowy lawyer with no connection to the murder? Her nosy questions arouse the suspicions of Constable Hobbs, the members of a local writers' group, and Janet Marsh and her crew of amateur sleuths at Yon Bonnie Books. Heather's unconventional research methods prove deadly when Janet discovers her lifeless body. Except the body turns out to be a dummy dressed-up to look like Heather. Meanwhile, Heather is sitting at a safe distance observing Janet's reactions. Then Heather is found dead--again--sprawled at the base of an ancient standing stone; and this time it's for real. Clutched in her hand is a valuable miniature book last seen at Yon Bonnie Books, and now the police want to know how Heather, the miniature book, and Janet are all connected. But Janet and her group of sleuths have two questions of their own: Who else is interested in knowing that connection-and is that person a cold-blooded killer?"--Provided by publisher.
The Highland Bookshop Mystery Series, Book #5: ARGYLES AND ARSENIC
ISBN: 1643138898 OCLC: 1259048972
Wilder rumors :
ISBN: 1594145555 OCLC: 84837841 Five Star, Waterville, Me. : 2007. Lewis Wilder thinks he's found an uncomplicated life when he takes the job as curator of the history museum in Nolichucky, Tennessee, a tiny town snoozing in the foothills of the Blue Ridge Mountains. He's wrong in so many ways.