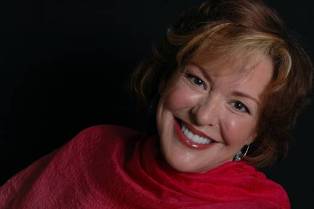 Jacquelyn Mitchard
Born:
December 10, 1956 in Chicago, Illinois
Pen Name:
none
Connection to Illinois
: Jacquelyn is a native of the west side of Chicago.
Biography
: Jacquelyn Mitchard is a journalist and author. She studied creative writing for three semesters under Mark Costello at the University of Illinois at Urbana-Champaign. In 1979, she became a newspaper reporter for the Milwaukee Journal Sentinel eventually becoming its lifestyle columnist. Her weekly column, The Rest of Us: Dispatches from the Mother Ship, appeared in 125 newspapers nationwide. Mitchard is best known for her first novel, The Deep End of the Ocean, which was the first selection for Oprah's Book Club. All of her other novels have been bestsellers as well. She won critical acclaim for The Most Wanted, Cage of Stars, and The Breakdown Lane. Mitchard has also written for children and young adults. She is an alum and distinguished fellow of the Ragdale Foundation where she began her writing career with the encouragement of Jane Hamilton. In 2007, The Deep End of the Ocean, was named as one of the ten most influential books of the past 25 years and has been Mitchard's only #1 New York Times Bestseller - for 21 weeks in 1996. It was also made into a major motion picture in 1999 that starred Michelle Pfeiffer and Treat Williams. Mitchard currently lives Massachusetts.
---
Awards
:
Primary Literary Genre(s):
Fiction; Non-Fiction
Primary Audience(s):
Adult readers; Children; Young adult readers
Blog:
http://jacquelynmitchard.com/blog/
Facebook:
http://www.facebook.com/#!/pages/Jacquelyn-Mitchard/74713984735?ref=search&sid=w8fO83869s-b1p42QANqpg.239127978..1=jacquelyn+mitchard
IMDB:
https://www.imdb.com/name/nm0593066/
Twitter:
https://twitter.com/JackieMitchard
Website:
http://www.jacquelynmitchard.com
Wikipedia:
http://en.wikipedia.org/wiki/Jacquelyn_Mitchard
---
Selected Titles
A theory of relativity
ISBN: 9780060836931 OCLC: 701263597 William Morrow, New York : [2011], ©2001. A terrible accident has left little Keefer orphaned but not unwanted. Devastated by his beloved sister's tragic death, twenty-four-year-old bachelor Gordon McKenna assumes that he will be entrusted with raising his niece, whom he has grown extremely close to over the few precious months of Keefer's life. But the child's paternal grandparents have different ideas ...--Page 4 of cover.
All we know of heaven :
ISBN: 0061345784 OCLC: 167763948 HarperTeen, New York : ©2008. When Maureen and Bridget, two sixteen-year-old best friends who look like sisters, are in a terrible car accident and one of them dies, they are at first incorrectly identified at the hospital, and then, as Maureen achieves a remarkable recovery, she must deal with the repercussions of the accident, the mix-up, and some choices she made while she was getting better.
Baby bat's lullaby /
ISBN: 0060507608 OCLC: 50291015 HarperCollins, New York : ©2004. With loving words, a mother bat lulls her baby to sleep.
Cage of stars /
ISBN: 0446578754 OCLC: 63257322 Warner Books, New York : 2006. Her Mormon community shattered by the murders of her two younger sisters, Veronica Swan severs ties with her family in her inability to forgive their killer, a decision that causes her to discover profound truths about sin and compassion.
Christmas, present /
ISBN: 0060565578 OCLC: 51923506 When Eliot and Laura Banner learn that Laura has a terminal condition, they gather their children and family around themselves during the holiday season to convey her blessings to them for the future and remember their shared history.
Eagle eyes /
ISBN: 0979007224 OCLC: 406142199 "Kofi, an eleven year-old boy from Ghana, lives only for his soccer team. He neglects his family, school work, and other responsibilities, until his grandfather undergoes cataract surgery to cure his blindness."--Page 4 of cover.
Jane Addams :
ISBN: 083680144X OCLC: 20894377 A biography of the social worker who promoted world peace and neighborhood cooperation.
Look both ways /
ISBN: 1595141618 OCLC: 236344651 Razorbill, New York : ©2009. When psychic twin Mallory Brynn starts seeing imges of a white wildcat in her dreams, she tries to figure out the connection of her images to an injured cheerleader and her Native American friend Eden.
Mother less child /
ISBN: 0393019020 OCLC: 10949479
No time to wave goodbye :
ISBN: 9780812979572 OCLC: 316835967 Random House, New York : ©2009. Though eventually returned to his family nine years after being abducted at age three, Ben Cappadora has never felt entirely at ease with his birth family. Now that all three of the Cappadora children are grown and Ben is married with a baby girl, the whole Cappadora family is shaken to the core by Ben's brother Vincent's documentary that focuses on the families of abducted children.
Now you see her
ISBN: 9780061975042 OCLC: 318898635 HarperCollins e-books, Pymble, NSW ; 2009. Fifteen-year-old Hope describes events leading her to agree to her boyfriend's plan to stage her abduction, and the consequences for their relationship, her family life, and her budding career as an actress.
Ready, set, school!
ISBN: 9780545283953 OCLC: 669004232 Scholastic, New York : 2010, ©2007. After Rory the raccoon conquers his fear of spending an entire night away from home, he is prepared to tackle the challenge of starting school just one week later, whether his parents are ready or not.
Rosalie, my Rosalie :
ISBN: 0060722193 OCLC: 56598577 HarperCollins, New York : ©2005. A nine-year-old girl named Henry, who lovingly cares for her pet duckling Rosalie, faces a difficult decision after Rosalie grows to adulthood.
Second nature :
ISBN: 1400067758 OCLC: 685239954 Random House, New York : ©2011. Losing her father in a school fire that disfigures her face, Sicily is raised by a dynamic aunt who urges her to pursue a normal life, an effort that is influenced by her fiancé, a terrible drunken revelation and an opportunity for a risky full-face transplant.
Starring Prima! :
ISBN: 0060573589 OCLC: 52853108 HarperCollins, New York : ©2004. In the old grand piano at the Ballet Jolie in New York City lives a ballet dancer who just happens to be a mouse, and who intends to become principal dancer in ballets for mice and humans, and the occasional dog, as well.
Still summer /
ISBN: 0446696730 OCLC: 181603338 Grand Central, New York : 2008. Twenty years ago they were high school royalty, the girls everyone envied. But life for Tracy and Holly has subsided into suburban contentment, husbands, homes and families. So when Olivia, the group's glamorous leader, returns to America as a rich widow, they decide to celebrate their reunion onboard a luxurious sailing boat in the Caribbean. Accompanied by Tracy's unruly teenage daughter and an attentive and experienced crew, the three friends set sail for the holiday of a lifetime. But what really awaits them in the sun-drenched Caribbean is more mysterious and terrifying than anything they could have imagine. As their dream trip turns into a desperate fight for survival, the women soon find themselves faced with dwindling supplies, modern-day piracy and, above all, the deep, lonely ocean. To survive, they must rely on the bonds that have held them close all these years, friend to friend, mother to daughter ndash; even as old secrets, old alliances and new treacheries push them beyond endurance ...
The breakdown lane /
ISBN: 0061374520 OCLC: 229883225 Avon, New York : 2006, ©2005. Using her Sunday advice column as a vehicle to tell her own story, Julieanne struggles to keep her twenty-year marriage going. Suddenly her husband Leo tells her he needs a "sabbatical" never really intending to return. A few months later Julieanne develops a serious illness and her three children search for their father Leo.
The deep end of the ocean /
ISBN: 0140286276 OCLC: 33443698 Viking, New York : 1996. "Watch your brother," Beth Cappadora tells Vincent, 7. Five minutes later she returns, "Where is Ben?" It is the moment every parent fears and it arrives to a mother of three in Chicago. The novel follows the family as year after year the hope of finding Ben recedes. Nine years later a boy knocks on their door looking for lawn work. It can't be. It is.
The midnight twins /
ISBN: 1595142266 OCLC: 170202225 Razorbill, New York : ©2008. Identical twins Meredith and Mallory Brynn have always shared one another's thoughts, even as they dream, but their connection diminishes as they approach their thirteenth birthday, and one begins to see the future, the other the past, leading them to discover that a high school student they know is doing horrible things that place the twins, and others, in grave danger.
The most wanted
ISBN: 0736642358 OCLC: 43373127 Books on Tape, Newport Beach, CA : ℗1998.
The rest of us :
ISBN: 0670876623 OCLC: 37331639 Viking, New York : ©1997. For ten years of Sunday mornings, readers of Jacquelyn Mitchard's newspaper column, "The Rest of Us", have been calling their mothers, boyfriends, and sisters to say. "See? That's exactly what I meant!" Now syndicated in newspapers nationwide, Mitchard's clear-eyed takes on everyday life in process are described over and over as "a letter from home", and "the kind of story you keep under your pillow". In this collection, readers can share the exuberant wisdom of this woman writer who has seen it all.
Twelve times blessed /
ISBN: 0061715786 OCLC: 320958577 Avon, New York, NY : 2009. It is True Dickinson's birthday and her best friends have gathered on this snowy night to celebrate--yet True has never felt more alone. Though her small business is thriving and her young son is happy, the death of her husband eight years ago has left an empty space in her life that friends and family cannot fill. Suddenly it seems that youth and beauty are slipping away while True is busily taking care of everyone else. But on this night, an accident on an icy road will offer True the golden opportunity to let love back into her life--if she can somehow conquer her fears. Twelve Times Blessed is a powerfully moving novel of the heart from one of our best-loved storytellers.
Two if by sea /
ISBN: 1501115588 OCLC: 908698910 "Just hours after his wife and her entire family perish in the Christmas Eve tsunami in Brisbane, American expat and former police officer Frank Mercy goes out to join his volunteer rescue unit and pulls a little boy from a submerged car, saving the child's life with only seconds to spare. In that moment, Frank's own life is transformed. Not quite knowing why, Frank sidesteps the law, when, instead of turning Ian over to the Red Cross, he takes the boy home to the Midwestern farm where he grew up. Not long into their journey, Frank begins to believe that Ian has an extraordinary, impossible telepathic gift; but his only wish is to protect the deeply frightened child. As Frank struggles to start over, training horses as his father and grandfather did before him, he meets Claudia, a champion equestrian and someone with whom he can share his life and his fears for Ian. Both of them know that it will be impossible to keep Ian's gift a secret forever. Already, ominous coincidences have put Frank's police instincts on high alert, as strangers trespass the quiet life at the family farm"--Goodreads.com.
Watch for me by moonlight :
ISBN: 1595142770 OCLC: 398488649 Razorbill, New York : ©2010. Psychic twins Mallory and Meredith try to figure out why their baby brother, who is being cared for by a number of babysitters while their mother attends medical school and works, keeps getting sick, while Meredith endures the pain and heartbreak of falling in love with a ghost who died in the Vietnam War.
What we saw at night /
ISBN: 1616951419 OCLC: 794359151 Soho Teen, New York, NY : 2012. After glimpsing an older man in a room with a dead girl, sixteen-year-old Allie, who has a life-threatening allergy to sunlight, discovers she is the lone key to stopping a serial killer.