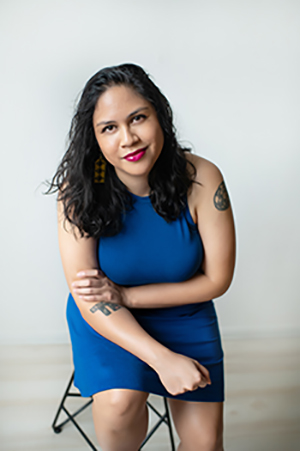 Mia P. Manansala
Born:
Pen Name:
Connection to Illinois
: Manansala is from Chicago.
Biography
: Mia P. Manansala is a writer and book coach who loves books, baking, and bad-ass women. She uses humor (and murder) to explore aspects of the Filipino diaspora, queerness, and her millennial love for pop culture.She is the winner of the 2018 Hugh Holton Award, the 2018 Eleanor Taylor Bland Crime Fiction Writers of Color Award, the 2017 William F. Deeck - Malice Domestic Grant for Unpublished Writers, and the 2016 Mystery Writers of America/Helen McCloy Scholarship. She's also a 2017 Pitch Wars alum and 2018-2019 mentor.
---
Awards
:
Primary Literary Genre(s):
Fiction
Primary Audience(s):
Adult readers
Web:
https://www.miapmanansala.com/
Facebook:
https://www.facebook.com/MPMtheWriter/
Twitter:
https://twitter.com/MPMtheWriter
WorldCat:
http://www.worldcat.org/search?q=Mia++P.++Manansala
---
Selected Titles
Arsenic and Adobo
ISBN: 0593201671 OCLC: 1247470953 Berkley 2021 The first book in a new culinary cozy series full of sharp humor and delectable dishes-one that might just be killer.... When Lila Macapagal moves back home to recover from a horrible breakup, her life seems to be following all the typical rom-com tropes. She's tasked with saving her Tita Rosie's failing restaurant, and she has to deal with a group of matchmaking aunties who shower her with love and judgment. But when a notoriously nasty food critic (who happens to be her ex-boyfriend) drops dead moments after a confrontation with Lila, her life quickly swerves from a Nora Ephron romp to an Agatha Christie case. With the cops treating her like she's the one and only suspect, and the shady landlord looking to finally kick the Macapagal family out and resell the storefront, Lila's left with no choice but to conduct her own investigation. Armed with the nosy auntie network, her barista best bud, and her trusted Dachshund, Longanisa, Lila takes on this tasty, twisted case and soon finds her own neck on the chopping block...--
Blackmail and Bibingka
ISBN: 059320171X OCLC: Berkley 2022 It's Christmastime in Shady Palms, but things are far from jolly for Lila Macapagal. Sure, her new business, the Brew-ha Cafe, is looking to turn a profit in its first year. And yes, she's taken the first step in a new romance with her good friend Jae Park. But her cousin Ronnie is back in town after ghosting the family fifteen years ago, claiming that his recent purchase of a local winery shows that he's back on his feet and ready to contribute to the Shady Palms community. Tita Rosie is thrilled with the return of her prodigal son, but Lila knows that wherever Ronnie goes, trouble follows. She's soon proven right when Ronnie is suspected of murder, and secrets surrounding her shady cousin and those involved with the winery start piling up. Now Lila has to put away years of resentment and distrust to prove her cousin's innocence. He may be a jerk, but he's still family. And there's no way her flesh and blood could actually be a murderer . . . right?
Homicide and Halo-Halo
ISBN: 0593201698 OCLC: Berkley 2022 Things are heating up for Lila Macapagal. Not in her love life, which she insists on keeping nonexistent despite the attention of two very eligible bachelors. Or her professional life, since she can't bring herself to open her new café after the unpleasantness that occurred a few months ago at her aunt's Filipino restaurant, Tita Rosie's Kitchen. No, things are heating up quite literally, since summer, her least favorite season, has just started. To add to her feelings of sticky unease, Lila's little town of Shady Palms has resurrected the Miss Teen Shady Palms Beauty Pageant, which she won many years ago—a fact that serves as a wedge between Lila and her cousin slash rival, Bernadette. But when the head judge of the pageant is murdered and Bernadette becomes the main suspect, the two must put aside their differences and solve the case—because it looks like one of them might be next.
Murder and Mamon (A Tita Rosie's Kitchen Mystery)
ISBN: 0593549163 OCLC: [S.l.] : Berkley [S.l.] : 2023 When murder mars the grand opening for Lila Macapagal's aunties' new laundromat, she will have to air out all the dirty laundry in Shady Palms to catch a killer… Lila Macapagal's godmothers April, Mae, and June—AKA the Calendar Crew—are celebrating the opening of their latest joint business venture, a new laundromat, to much fanfare (and controversy). However, what should've been a joyous occasion quickly turns into a tragedy when they discover the building has been vandalized—and the body of Ninang April's niece, recently arrived from the Philippines, next to a chilling message painted on the floor. The question is, was the message aimed at the victim or Lila's gossipy godmothers, who have not-so-squeaky-clean reputations? With Ninang April falling apart from grief and little progress from the Shady Palms Police Department in this slippery case, it's up to Lila and her network to find justice for the young woman. The Calendar Crew have stuck their noses into everybody's business for years, but now the tables are turned as Lila must pry into the Calendar Crew's lives to figure out who has a vendetta against the (extremely opinionated yet loving) aunties and stop them before they strike again.