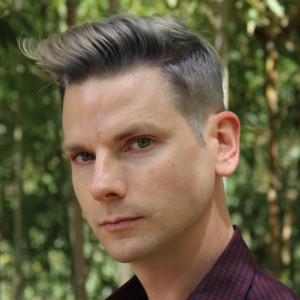 Caleb Roehrig
Born:
Pen Name:
Connection to Illinois
: Roehrig has lived in Chicago.
Biography
: Caleb Roehrig is an author of young adult thrillers, including Last Seen Leaving, White Rabbit, and Death Prefers Blondes. A native of Ann Arbor, Michigan, he has also lived in Chicago, Los Angeles, and Helsinki, Finland. As a former actor and television producer, Roehrig has experience on both sides of the camera, with a resume that includes appearances on film and TV -- not to mention seven years in the stranger-than-fiction salt mines of reality television.
---
Awards
:
Primary Literary Genre(s):
Fiction; Mystery
Primary Audience(s):
Young adult readers
Web:
http://calebroehrig.com/
Twitter:
https://twitter.com/MikalebRoehrig
WorldCat:
http://www.worldcat.org/search?q=Caleb++Roehrig
---
Selected Titles
A Werewolf in Riverdale
ISBN: 1338569120 OCLC: 1091248751 Scholastic, [New York] : [2020] Everyone knows the characters from Riverdale: popular Archie Andrews, girl-next-door Betty Cooper, angsty Jughead Jones, and the sophisticated Veronica Lodge. But this is not the Riverdale you know and love. Something twisted has awoken in the town with pep. Inspired by the iconic Archie Horror comics, this reimagined universe takes the grittiness of the TV show and adds a paranormal twist. Someone is killing the citizens of Riverdale. And after a bloody full moon, Jughead realizes he is the killer! Jughead is a werewolf. Can he keep this secret from his friends -- including werewolf-hunting Betty Cooper? Jughead has to get his dark side under control -- before it is controlling him.
Death Prefers Blondes
ISBN: 1250155827 OCLC: 1028185889 Feiwel & Friends 2019 Teen celebrity socialite Margo leads a double life as a cat burglar with a crew of four kickboxing drag queens, but when a big job goes belly-up, each one of them must rely on their special skills to survive the night.
Last Seen Leaving
ISBN: 1250085632 OCLC: 928491621 Feiwel & Friends 2016 Flynn's girlfriend is missing, and people are suspecting him of knowing something, so he struggles to uncover her secrets as he must also face the truth about himself.
The Fell of Dark
ISBN: 1250155843 OCLC: 1089272475 FEIWEL & FRIENDS, [Place of publication not identified] 2020.
The Poison Pen
ISBN: 1338669672 OCLC: 1129215465 SCHOLASTIC (US), [Place of publication not identified] 2020.
White Rabbit
ISBN: 1250085659 OCLC: 974432988 Feiwel & Friends 2018 Rufus Holt is having the worst night of his life. It begins with the reappearance of his ex-boyfriend, Sebastian-the guy who stomped his heart out like a spent cigarette. Just as Rufus is getting ready to move on, Sebastian turns up out of the blue, saying they need to talk. Things couldn't get worse, right? Then Rufus gets a call from his sister April, begging for help. He and Sebastian find her, drenched in blood and holding a knife beside the dead body of her boyfriend, Fox Whitney. April swears she didn't kill Fox. Rufus knows her too well to believe she's telling him the whole truth, but April has something he needs. Her price is his help. Now, with no one to trust but the boy he wants to hate yet can't stop loving, Rufus has one night to clear his sister's name ... or die trying.--Provided by Publisher.