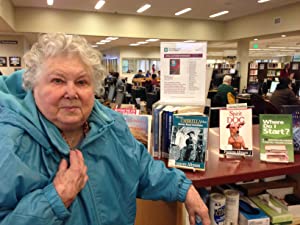 Frances Altman
Born:
September 5, 1937 in Los Angeles, California
Pen Name:
None
Connection to Illinois
: Altman lived in the Chicago area for 25 years. During her time in Chicago, she earned a Master's degree from Roosevelt University Chicago and worked as a Special Features Editor at ''Day Publications'' in Chicago; Promotions Director at ''Paddock Publications'' in Arlington Heights, Illinois; Managing Editor at ''Suburban Week'' in Chicago; Editor for ''Countryside Living'' in Barrington, Illinois; and Public Relations at ''National Hot Dog and Sausage Council'' in Chicago.
Biography
: Frances Altman has created a forty year career in communications by blending public relations, marketing and freelance writing. Now retired she worked for ''The Chicago Sun Times'', National Hot Dog & Sausage Council, McDonald's, Honeywell and Virginia Commonwealth University where she also taught. She has written several hundred newspaper and magazine articles on food, community business and children's stories for Child Life, Friends, Highlights, Weekly Reader and six books for young readers including ''Something Egg'' and ''Reggie the Goat''. Her writing has received numerous merit awards from National Federation of Press Women, IABC, Chicago Publicity Club, PRSA, Virginia and Illinois Press Associations and a TWIN Leadership Award from National YWCA. Her books, [http://www.barnesandnoble.com/w/reggie-the-goat-frances-altman/1003964542?ean=2940148247746 ''Reggie the Goat''] and [http://www.barnesandnoble.com/w/spirit-dog-frances-altman/1119702479?ean=2940149244263 ''Spirit Dog''] have both been released as Nook eBooks. Altman currently resides in Baltimore, Maryland.
---
Awards
:
Primary Literary Genre(s):
Fiction & Non-Fiction
Primary Audience(s):
Children
Frances Altman on WorldCat :
http://www.worldcat.org/search?q=frances+altman
---
Selected Titles
General Douglas MacArthur, military genius.
ISBN: 0513011099 OCLC: 623382 Denison Minneapolis, [1973] A biography of a famous general from his boyhood in the New Mexico Territory, through his controversial military career, to his later years when many honors were conferred upon him.
Mister umbrella man :
ISBN: 0692400222 OCLC: 910296434 Middletown, Deleware 2015. "Mister Umbrella Man and stories about inventions." An umbrella! Peanut butter! A vacuum cleaner! Who invented these familiar items? This book combines a collection of thirteen stories about inventions we all know. Some were invented by one inventor, others were the collaboration of several inventors and companies. "Chef Potato Chip" and "Doctor Peanut Butter" tell us who invented these delicious foods. "Balloons, Balloons" and "When Watches Were Eggs" are narrated stories about tools we still use told as if we were standing beside the inventors. Unfortunately, the inventor's name has probably been forgotten. Grades 3-4.
Reggie the goat
ISBN: 9781548165994 OCLC: 1027984273
Spirit dog.
ISBN: 9781500200206 OCLC: 898985751 [publisher not identified] [Charleston, South Carolina] : [2014]