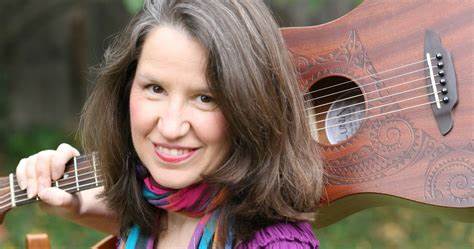 Mary Amato
Born:
1961 in Belvidere, Illinois
Pen Name:
None
Connection to Illinois
: Amato was born in Belvidere and grew up in Libertyville.
Biography
: Mary Amato is the author of many acclaimed books for children including ''Please Write in this Book'', which won the Maud Hart Lovelace Book Award as well as ''The Naked Mole-Rat Letters'', which was nominated for six state awards, including the Rebecca Caudill Award in Illinois. A prolific songwriter, Mary also sings, plays the guitar, and teaches songwriting. Several of her books for young adults, including ''Guitar Notes'', features original songs. Mary now lives in Maryland, but she returns to the Chicago area often and enjoys presenting and teaching. Her Skype sessions are also popular.
---
Awards
:
Primary Literary Genre(s):
Fiction
Primary Audience(s):
Children
E-Mail:
info@maryamato.com
Facebook:
https://www.facebook.com/pages/Author-Mary-Amato/97538213374?ref=hl
Instagram:
https://www.instagram.com/authoramato/
Pinterest:
https://www.pinterest.com/mary_amato/
Twitter:
https://twitter.com/maryamato
Website:
http://www.maryamato.com
Website:
http://www.thrumsociety.com
---
Selected Titles
Edgar Allan's official crime investigation notebook /
ISBN: 0823422712 OCLC: 526084148 Holiday House, New York : ©2010. When someone takes a pet goldfish, then other items from Ms. Herschel's classroom, each time leaving a clue in the form of a poem, student Edgar Allan competes with a classmate to be first to solve the mystery.
Get happy /
ISBN: 151242627X OCLC: 938388920 "On her birthday, Minerva, a seventeen-year-old singer/songwriter, hears from the father she has never known and her placid life is turned upside down"--
Good Crooks: Dog Gone!
ISBN: 1606845101 OCLC: 844774891 When their thieving parents steal a rich and famous dog, twins Jillian and Billy, who have grown tired of being crooks, must find a way to get Poochie Smoochie back to her owner. Includes activities.
Good Crooks: Missing Monkey!
ISBN: 9781606843963 OCLC: 844774885 Tired of being pressured to help commit crimes and yearning for a more normal life, twins Jillian and Billy band together to do good deeds while their parents kidnap a monkey from the zoo, hoping to teach it to steal. Includes activities.
Good Crooks: Sniff a Skunk!
ISBN: 9781606845981 OCLC: 894912332 Unlike their thieving parents, ten-year-old twins Billy and Jillian Crook like to do good deeds, including rescuing a baby skunk. Features activities.
Guitar notes /
ISBN: 1606841246 OCLC: 759908691 Egmont USA, New York : ©2012. Tripp, who plays guitar only for himself, and Lyla, a cellist whose talent has already made her famous but not happy, form an unlikely friendship when they are forced to share a practice room at their high school.
Invisible lines /
ISBN: 160684010X OCLC: 299707308 Egmont USA, New York : 2009. Coming from a poor, single-parent family, seventh-grader Trevor must rely on his intelligence, artistic ability, quick wit, and soccer prowess to win friends at his new Washington, D.C. school, but popular and rich Xander seems determined to cause him trouble.
Lucky me, Lucy McGee /
ISBN: 0823443647 OCLC: 1096214821 "While Lucy McGee tries to track down her missing ukulele, the members of the Songwriting Club must decide if it's worth competing against one another in a giveaway for free concert tickets"--
News from me, Lucy McGee /
ISBN: 0823438716 OCLC: 990140890 Lucy avoids her school's new Uke Club to help neighbor Scarlet create a Poetry Club, although Scarlet keeps telling her to do things that seem wrong.--
Our teacher is a vampire and other (not) true stories /
ISBN: 0823435539 OCLC: 915120654 A notebook that is passed from student to student around a classroom becomes a repository for wild rumors, heartfelt confessions, and creative writing and helps the students cope when their teacher has medical emergency and they must cope with a rigid substitute as they worry about their beloved teacher and her family.
Please write in this book
ISBN: 9780823421381 OCLC: 61652678 When Ms. Wurtz leaves a blank book in the Writer's Corner with a note encouraging those who find it to talk to each other in its pages, the students' entries spark a classroom-wide battle.
Sing with me, Lucy McGee /
ISBN: 0823438767 OCLC: 1035227080 "A talent contest brings out the worst in Lucy McGee and her fourth-grade classmates"--
The chicken of the family
ISBN: 9780399252686 OCLC: 65187137 G.P. Putnam's Sons New York, NY : ©2008. When her older sisters tease her into believing that she is actually a chicken, Henrietta runs off to a farm to be among her own kind.
The naked mole-rat letters /
ISBN: 0823420981 OCLC: 55940478 Holiday House New York : ©2005. When her father begins a long-distance romance with a Washington, D.C. zookeeper, twelve-year-old Frankie sends fabricated email letters to the zookeeper in an attempt to end the relationship.
The Riot Brothers: Drooling and Dangerous
ISBN: 0823422046 OCLC: 61278678 Holiday House New York : ©2006. Three more hilarious, gross-out stories featuring Orville and Wilbur Riot.
The Riot Brothers: Snarf Attack, Underfoodle, and the Secret of Life
ISBN: 0823420620 OCLC: 51854957 Holiday House New York : ©2004. Contains three stories in which brothers and best friends Wilbur and Orville Riot catch a thief, overthrow a king, and find a treasure, and includes rules to some of their made-up games.
The Riot Brothers: Stinky and Successful
ISBN: 0823421961 OCLC: 123912466 Holiday House New York : ©2007. Orville and Wilber Riot rescue a damsel in distress, are mad scientists, and defeat a bully through Operation Armpit.
The Riot Brothers: Take the Mummy and Run
ISBN: 0823422739 OCLC: 229445851 Holiday House New York : ©2009. Story shows that guts, brains, and a little slobber are all you need to have a ripsnorgling good time.
The word eater /
ISBN: 0823419401 OCLC: 41645969 Holiday House New York : 2000. Lerner Chanse, a new student at Cleveland Park Middle School, finds a worm that magically makes things disappear, and she hopes it will help her fit in, or get revenge, at her hated school.