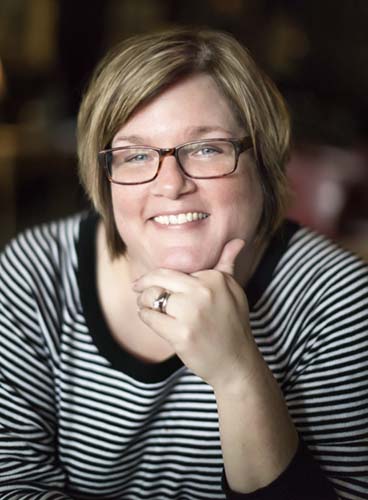 Lori Rader-Day
Born:
1973 in Lebanon, Indiana
Pen Name:
None
Connection to Illinois
: Rader-Day has lived in Chicago since 2001.
Biography
: Lori Rader-Day is a multi-award-winning writer from Chicago. With her debut novel published by Seventh Street Press just a few short years ago, she has catapulted to being a lead author with William Morrow/Harper Collins. Her collection of books - Under a Dark Sky, The Day I Died, Little Pretty Things, and The Black Hour - have garnered three Mary Higgins Clark Award nominations, multiple Indie Next Pick nominations (carefully selected by independent booksellers across the country) and an Anthony Award (chosen by her peers and genre readers alike.) Her short fiction has appeared in ''Ellery Queen Mystery Magazine'', ''Time Out Chicago'', and ''Good Housekeeping''. Her writing is breathtakingly suspenseful and always features a strong female lead character. But more than a talented storyteller, she's an important part of the book industry, especially locally. She co-chairs the popular Chicago mystery conference Murder and Mayhem. She's an author's author - always helping others find their way, and has devoted her years to helping libraries and bookstores flourish. Originally from Indiana, Lori was recently honored with the prestigious Eugene and Marilyn Glick Indiana Authors Award. Lori leads writing workshops across the country. She is active in the Midwest Chapter of the Mystery Writers of America and a member of Sisters in Crime, International Thriller Writers, and International Association of Crime Writers.
---
Awards
:
The Black Hour - Anthony Award for Best First Novel, 2015 , Finalist, Barry Award for Best Paperback, 2015 , Finalist, Mary Higgins Clark Award, 2015 , Finalist, Left Coast Crime Rosebud Award, 2015 , Finalist, Macavity Award for Best First Mystery
Little Pretty Things - Mary Higgins Clark Award, 2016 , Finalist, Anthony Award for Best Paperback, 2016
The Day I Died - Anthony Award for Best Paperback, 2018 , Finalist, Barry Award for Best Paperback, 2018 , Finalist, Mary Higgins Clark Award, 2018 , Finalist, Thriller Award for Best Paperback, 2018
Under A Dark Sky - Anthony Award for Best Paperback, 2019 , Finalist, Edgar Award for Best Paperback, 2019 ,Finalist, Lefty Award for Best Mystery, 2019
Primary Literary Genre(s):
Fiction; Mystery
Primary Audience(s):
Adult readers
Facebook:
https://www.facebook.com/loriraderdaybooks?ref=hl
Instagram:
https://www.instagram.com/loriraderday/
Twitter:
https://twitter.com/LoriRaderDay
Web:
http://www.LoriRaderDay.com
---
Selected Titles
Death at greenway :
ISBN: 0062938037 OCLC: Bridey Kelly has come to Greenway House--the beloved holiday home of Agatha Christie--in disgrace. A terrible mistake at St. Prisca's Hospital in London has led to her dismissal as a nurse trainee, and her only chance for redemption is a position in the countryside caring for children evacuated to safety from the Blitz. Greenway is a beautiful home full of riddles: wondrous curios not to be touched, restrictions on rooms not to be entered, and a generous library, filled with books about murder. The biggest mystery might be the other nurse, Gigi, who is like no one Bridey has ever met. Chasing ten young children through the winding paths of the estate grounds might have soothed Bridey's anxieties and grief--if Greenway were not situated so near the English Channel and the rising aggressions of the war. When a body washes ashore near the estate, Bridey is horrified to realize this is not a victim of war, but of a brutal killing. As the local villagers look among themselves, Bridey and Gigi discover they each harbor dangerous secrets about what has led them to Greenway. With a mystery writer's home as their unsettling backdrop, the young women must unravel the truth before their safe haven becomes a place of death ... --
Little pretty things :
ISBN: 9781633880054 OCLC: OLD RIVALRIES NEVER DIE. BUT SOME RIVALS DO. Juliet Townsend is used to losing. Back in high school, she lost every track team race to her best friend, Madeleine Bell. Ten years later, she's still running behind, stuck in a dead-end job cleaning rooms at the Mid-Night Inn, a one-star motel that attracts only the cheap or the desperate. But what life won't provide, Juliet takes. Then one night, Maddy checks in. Well-dressed, flashing a huge diamond ring, and as beautiful as ever, Maddy has it all. By the next morning, though, Juliet is no longer jealous of Maddy--she's the chief suspect in her murder. To protect herself, Juliet investigates the circumstances of her friend's death. But what she learns about Maddy's life might cost Juliet everything she didn't realize she had. --
The black hour /
ISBN: 1616148853 OCLC: For Chicago sociology professor Amelia Emmet, violence was a research topic--until a student she'd never met shot her. He also shot himself. Now he's dead and she's back on campus, trying to keep up with her class schedule, a growing problem with painkillers, and a question she can't let go: Why? All she wants is for life to get back to normal, but normal is looking hard to come by. She's thirty-eight and hobbles with a cane. Her first student interaction ends in tears (hers). Her fellow faculty members seem uncomfortable with her, and her ex--whom she may or may not still love--has moved on. Enter Nathaniel Barber, a graduate student obsessed with Chicago's violent history. Nath is a serious scholar, but also a serious mess about his first heartbreak, his mother's death, and his father's disapproval. Assigned as Amelia's teaching assistant, Nath also takes on the investigative legwork that Amelia can't do. And meanwhile, he's hoping she'll approve his dissertation topic, the reason he came to grad school in the first place: the student attack on Amelia Emmet. Together and at cross-purposes, Amelia and Nathaniel stumble toward a truth that will explain the attack and take them both through the darkest hours of their lives --
The day I died :
ISBN: 0062560298 OCLC: Using her skills as a handwriting analyst to assist a local murder and kidnapping investigation, Anna identifies disturbing parallels between the crimes and her own struggles to protect her troubled teen son from her abusive ex.
The Lucky One
ISBN: 0062938061 OCLC: As a child, Alice was stolen from her backyard in a tiny Indiana community, but against the odds, her policeman father tracked her down within twenty-four hours and rescued her from harm. In the aftermath of the crime, her family decided to move to Chicago and close the door on that horrible day. Yet Alice hasn't forgotten. She devotes her spare time volunteering for a website called The Doe Pages scrolling through pages upon pages of unidentified people, searching for clues that could help reunite families with their missing loved ones. When a face appears on Alice's screen that she recognizes, she's stunned to realize it's the same man who kidnapped her decades ago. The post is deleted as quickly as it appeared, leaving Alice with more questions than answers. Embarking on a search for the truth, she enlists the help of friends from The Doe Pages to connect the dots and find her kidnapper before he hurts someone else. Then Alice crosses paths with Merrily Cruz, another woman who's been hunting for answers of her own. Together, they begin to unravel a dark, painful web of lies that will change what they thought they knew - and could cost them everything. --Publisher description.
Under a dark sky :
ISBN: 9780062560308 OCLC: From the critically-acclaimed author of The Day I Died comes a terrifying twist on a locked-room mystery that will keep readers guessing until the last page. Only in the dark can she find the truth. Since her husband died, Eden Wallace's life has diminished down to a tiny pinprick, like a far-off star in the night sky. She doesn't work, has given up on her love of photography, and is so plagued by night terrors that she can't sleep without the lights on. Everyone, including her family, has grown weary of her grief. So when she finds paperwork in her husband's effects indicating that he reserved a week at a dark sky park, she goes. She's ready to shed her fear and return to the living, even if it means facing her paralyzing phobia of the dark. But when she arrives at the park, the guest suite she thought was a private retreat is teeming with a group of twenty-somethings, all stuck in the orbit of their old college friendships. Horrified that her get-away has been taken over, Eden decides to head home the next day. But then a scream wakes the house in the middle of the night. One of the friends has been murdered. Now everyone--including Eden--is a suspect. Everyone is keeping secrets, but only one is a murderer. As mishaps continue to befall the group, Eden must make sense of the chaos and lies to evade a ruthless killer--and she'll have to do it before dark falls... --