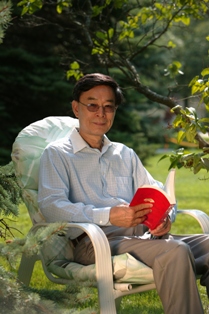 William Marr
Born:
1936 in Taiwan
Pen Name:
None
Connection to Illinois
: William came to the United States in 1961 as an engineering student. In 1969, he joined Argonne National Laboratory, in DuPage County, Illinois, as a researcher, and has lived in Downers Grove since that time.
Biography
: William Marr came to this country from Taiwan in 1961 and received his master's degree in mechanical engineering from Marquette University in 1963 and his PhD degree in nuclear engineering from the University of Wisconsin-Madison in 1969. After twenty seven years with Argonne National Laboratory in Chicago, he retired from his engineering profession in 1996 to devote his full time and energy to his true passion-- poetry and art. Considered one of the world's leading contemporary poets writing in Chinese, his English poetry is also highly regarded and was hailed as one of the collectable Chicago poets. So far he has published 21 volumes of poetry (two in English, the rest in Chinese), two books of essays and several books of translations. His poems are included in over one hundred anthologies, ranging from high school and college literary textbooks to special collections, including 300 Best New Poems 1917-1995, published in Taiwan, 300 Best Chinese New Poems, published in China, and Oxford English: An International Approach Student Book 2. Some of his poems have been translated into more than ten languages. He has also edited and published several anthologies of Chinese and Taiwanese modern poetry. A former president of the Illinois State Poetry Society, he also pursues other artistic interests including painting and sculpting and has held several solo as well as group exhibits in the Chicago area, Beijing, and on the Internet. He was one of the participants at an art show in Beijing during the celebration of the 2008 Olympics. His Website, The Art World of William Marr, displays some of his literary and artistic works. A bi-lingual book, also entitled The Art World of William Marr, written by two Chinese professors summarizing his achievements in poetry, prose, translation, painting, and sculpting, was published in China in 2010.
---
Awards
:
Primary Literary Genre(s):
Non-Fiction; Other ; Poetry
Primary Audience(s):
Adult readers
Email:
marrfei@yahoo.com
Website:
http://wmarr9.home.comcast.net/~wmarr9/bmz.htm
William Marr on WorldCat :
http://www.worldcat.org/search?q=william+marr
---
Selected Titles
Autumn window :
ISBN: 0963754793 OCLC: 36133410 Arbor Hill Press, Naperville, Ill. : 1996.
Between heaven and earth /
ISBN: 145129090X OCLC: 650211852 PublishAmerica, Baltimore : 2010.