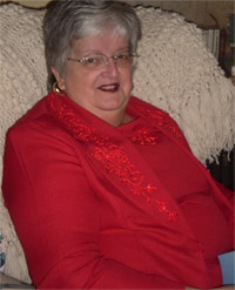 Eva Ridenour
Born:
N/A
Pen Name:
Elizabeth Butler
Connection to Illinois
: Ridenour writes about Illinois, and is retired from the University of Illinois. She was raised in Arcola, Illinois.
Biography
: Ridenour is a writer of articles, books and poetry. Shas written eight romance novels under the pen name of Elizabeth Butler. Her books take place in the West and Midwest. Under her given name, she's written many articles, her family history and her hometown history. Her articles have been published in magazines such as ''Boys' Life'', ''Persimmon Hill'', ''Grit'', ''Rural Missourian'', and religious publications. Her poetry has appeared in ''The Mid-America Poetry Review'', ''Well Versed'', ''Cappers'' and she has published one chapbook of her work entitled ''Ridin' the Rails and Life''. Ridenour is retired from the University of Illinois and now lives in Missouri. She is the mother of one, grandmother of two.
---
Awards
:
Ridenour received the Walter Williams Major Work Award in 2004. The highest award given by the Missouri Writers' Guild.
Primary Audience(s):
Adult readers
Email:
bepub@socket.net
Facebook:
http://www.facebook.com/search/?q=eva+ridenour&init=quick&tas=0.8767930956413459#!/profile.php?id=100000649330844=eva+ridenour
Eva Ridenour on WorldCat :
http://www.worldcat.org/search?q=eva+ridenour
---
Selected Titles
J.D.'s rustler /
ISBN: 0967576725 OCLC: 47682977 B & E Pub. Co., Arcola, IL : ©2001.
The Colonel's widow :
ISBN: 0967576709 OCLC: 44931706 B & E Pub., Arcola, IL : ©1999.
Trailboss :
ISBN: 0967576717 OCLC: 45107741 B & E Pub., Arcola, Ill. : ©2000.