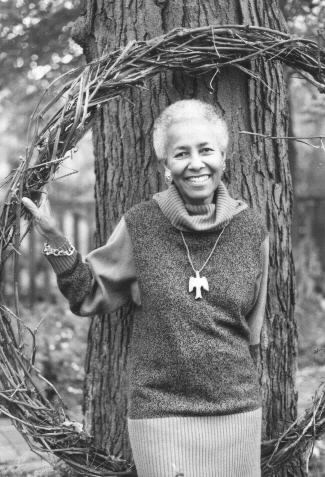 Harriette Gillem Robinet
Born:
July 14, 1931 in Washington, D.C.
Pen Name:
None
Connection to Illinois
: Robinet moved to Chicago in 1960 and currently resides in Oak Park.
Biography
: Harriett Gillem Robinet was born and raised in Washington, D. C. She spent her childhood summers in Arlington, Virginia, where her mother's father had been a slave under General Robert E. Lee. A graduate from the College of New Rochelle, in New Rochelle, New York, she received graduate degrees in microbiology from Catholic University of America in Washington, D.C. She began writing after moving to Chicago and after the birth of a son with cerebral palsy. The main character of ''Jay and the Marigold'' suffers from cerebral palsy. Her first two books were influenced by meeting other handicapped children and adults, who 'have shared some of their anger, dreams, and victories.' Her later books are historical fiction based around American historical events, such as the Chicago fire, the Battle of 1812, the emancipation of the slaves during and after the U.S. Civil War, and the Montgomery, Alabama and the bus boycott of 1956. Her books 'portray likeable children and adults, with their needs and struggles, against a pivotal time in American history.' She received the Chicago Literary Hall of Fame's Fuller Award at a ceremony on Tuesday, March 14, 2023. She was the 14th person inducted into the Chicago Literary Hall of Fame.
Public speaking availability:
---
Awards
:
Children of the Fire Award from Friends of American Writers in 1991
Washington City is Burning Carl Sandburg Award in 1997
The Twins, The Pirates, and the Battle of New Orleans Midland Authors Award in 1998
Walking to the Bus Rider Blues Jane Addams Award Honor book in 2001; nominated in 2001 for the Edgar Award by Mystery Writers of America; a finalist for the 2003 William Allen White Award in Kansas; a finalist for 2003-2004 Texas Bluebonnet Award Master List; and a finalist for the 2003 Rebecca Caudill Young Readers' Book Award in Illinois
Forty Acres and Maybe a Mule 1999 Scott O'Dell Award for historical fiction for children; CBC Notable Children's Book in Social Studies
Other Awards The Fuller Award for Lifetime Achievement, Chicago Literary Hall of Fame, 2023
Primary Literary Genre(s):
Fiction; History; Non-Fiction
Primary Audience(s):
Children; Young adult readers
Web:
http://www.hgrobinet.com
Web:
https://www.hgrobinet.com/BIOGRAPHY.htm
---
Selected Titles
Children of the Fire
ISBN: 0689839685 OCLC: New York : Aladdin New York : 2001 Eleven-year-old Hallelujah is fascinated by the fires burning all over the city of Chicago. Little does she realize that her life will be changed forever by the flames that burn with such bright fascination for her.The year is 1871 and this event will later be called the Great Chicago Fire. Hallelujah and her newfound friend Elizabeth are as different as night and day; but their shared solace will bind them as friends forever, as a major American city starts to rebuild itself.
Forty acres and maybe a mule /
ISBN: 061322986X OCLC: 433141695 Aladdin, New York : 2000, ©1998. Born with a withered leg and hand, Pascal, who is about twelve years old, joins other former slaves in a search for a farm and the freedom which it promises.
If you please, President Lincoln /
ISBN: 068931969X OCLC: 32013669 Atheneum Books for Young Readers, New York, N.Y. : ©1995. Shortly after the Christmas of 1863, fourteen-year-old Moses thinks he is beginning a new free life when he becomes part of a group of other former slaves headed for a small island off the coast of Haiti.
Jay and the Marigold
ISBN: 0516035142 OCLC: Chicago : Children's Press Chicago : A young boy born with cerebral palsy watches a flower grow in spite of its handicap. This shows him that he too can grow and blossom.
Missing from Haymarket Square
ISBN: 0689838956 OCLC: New York : Atheneum New York : 2001 Set against the background of the events leading to the Haymarket Riot of 1886, Dinah and her friends are put in a dangerous position as they try to free Dinah's father from prison so that he can take an active role in the demonstration as a union organizer.
Mississippi chariot
ISBN: 0689806329 OCLC: 36368991 Aladdin Paperbacks, New York : 1997, ©1994. In Mississippi in 1936, twelve-year-old Shortning Bread Jackson tries to help his falsely convicted father while dealing with the troubled racial climate in his town.
Ride the red cycle /
ISBN: 0395291836 OCLC: 5726694 Houghton-Mifflin, Boston : 1980. Jerome, crippled since the age of two, struggles to realize his dream of riding a cycle.
The twins, the pirates, and the Battle of New Orleans
ISBN: 0689845316 OCLC: 48664145 Aladdin Paperbacks, New York : 2001. Twelve-year-old Afro-American twins attempt to escape in the face of pirates, an American army, and the British forces during the Battle of New Orleans in 1815.
Twelve Travelers, Twenty Horses
ISBN: 0689876076 OCLC: New York : Aladdin New York : 2005 On the way to California in 1860 with their kind new master, thirteen-year-old Jacob Israel Christmas, his mother, and other slaves are caught up in adventures that include trying to stop a plot to help the South secede from the Union.
Walking to the bus-rider blues /
ISBN: 143526326X OCLC: 48806693 Aladdin Paperbacks, New York : 2002, ©2000. Twelve-year-old Alfa Merryfield, his older sister, and their grandmother struggle for rent money, food, and their dignity as they participate in the Montgomery, Alabama bus boycott in the summer of 1956.
Washington City is burning /
ISBN: 0689807732 OCLC: 33014037 Atheneum Books For Young Readers, New York : 1996. In 1814 Virginia, a slave in President Madison's White House, experiences the burning of Washington by the invading British army.