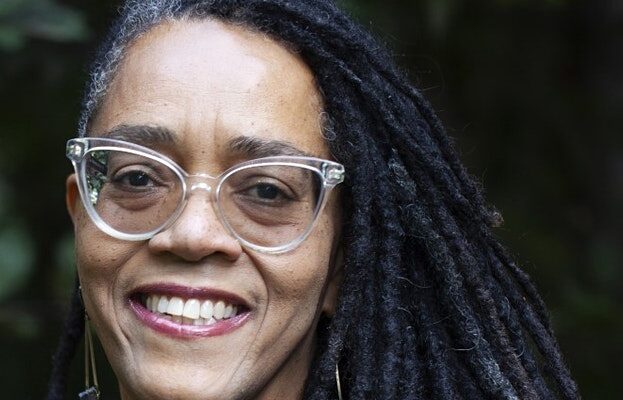 Francesca T Royster
Born:
Connection to Illinois
: Royster lives in Chicago.
Biography
: Francesca T. Royster is a native of Chicago's South Side and a professor of English literature at DePaul University in Chicago, where she teaches classes on African American literature and culture, Shakespeare, and gender and queer theory. She is the author of two academic books, Becoming Cleopatra: The Shifting Image of an Icon and Sounding Like a No-No: Queer Sounds and Eccentric Acts in the Post-Soul Era. She received her PhD in English literature from the University of California, Berkeley. Her essays have appeared in the Los Angeles Review of Books, Chicago Literati, and Feminist Studies, among others.
---
Awards
:
Primary Literary Genre(s):
Non-Fiction
Primary Audience(s):
Adult readers
E-Mail:
froyster@depaul.edu
Web:
http://froyster@depaul.edu
WorldCat:
http://www.worldcat.org/search?q=Francesca++T++Royster
---
Selected Titles
Becoming Cleopatra: The Shifting Image of an Icon
ISBN: 1403961085 OCLC: 51460541 Palgrave Macmillan New York : 2003 Cleopatra. Sexy, sultry, political, and racially ambiguous. Moving fluidly from Shakespeare's England to contemporary LA, Francesca Royster looks at the performance of race and sexuality in a wide range of portrayals of that icon of dangerous female sexuality, Cleopatra. Royster begins with Shakespeare's original appropriation of Plutarch, and then moves on to analyze performances of the Cleopatra icon by Josephine Baker, Elizabeth Taylor, Pam Grier (Cleopatra Jones) and Queen Latifah (in Set It Off ). Royster argues that Cleopatra highlights a larger cultural anxiety about women, sexuality, and race.
Black Country Music: Listening for Revolutions (American Music Series)
ISBN: 1477326499 OCLC: 1337944542 University of Texas Press 2022 After a century of racist whitewashing, country music is finally reckoning with its relationship to Black people. In this timely work—the first book on Black country music by a Black writer—Francesca Royster uncovers the Black performers and fans, including herself, who are exploring the pleasures and possibilities of the genre. Informed by queer theory and Black feminist scholarship, Royster's book elucidates the roots of the current moment found in records like Tina Turner's first solo album, Tina Turns the Country On! She reckons with Black "bros" Charley Pride and Darius Rucker, then chases ghosts into the future with Valerie June. Indeed, it is the imagination of Royster and her artists that make this music so exciting for a genre that has long been obsessed with the past. The futures conjured by June and others can be melancholy, and are not free of racism, but by centering Black folk Royster begins to understand what her daughter hears in the banjo music of Our Native Daughters and the trap beat of Lil Nas X's "Old Town Road." A Black person claiming country music may still feel a bit like a queer person coming out, but, collectively, Black artists and fans are changing what country music looks and sounds like—and who gets to love it.
Choosing Family: A Memoir of Queer Motherhood and Black Resistance
ISBN: 1419756176 OCLC: 1365395633 Abrams Press 2023 A brilliant literary memoir of chosen family and chosen heritage, told against the backdrop of Chicago's North and South Sides As a multiracial household in Chicago's North Side community of Rogers Park, race is at the core of Francesca T. Royster and her family's world, influencing everyday acts of parenting and the conception of what family truly means. Like Maggie Nelson's The Argonauts, this lyrical and affecting memoir focuses on a unit of three: the author; her wife Annie, who's white; and Cecilia, the Black daughter they adopt as a couple in their forties and fifties. Choosing Family chronicles this journey to motherhood while examining the messiness and complexity of adoption and parenthood from a Black, queer, and feminist perspective. Royster also explores her memories of the matriarchs of her childhood and the homes these women created in Chicago's South Side—itself a dynamic character in the memoir—where "family" was fluid, inclusive, and not necessarily defined by marriage or other socially recognized contracts. Calling upon the work of some of her favorite queer thinkers, including José Esteban Muñoz and Audre Lorde, Royster interweaves her experiences and memories with queer and gender theory to argue that many Black families, certainly her own, have historically had a "queer" attitude toward family: configurations that sit outside the white normative experience and are the richer for their flexibility and generosity of spirit. A powerful, genre-bending memoir of family, identity, and acceptance, Choosing Family, ultimately, is about joy—about claiming the joy that society did not intend to assign to you, or to those like you.
Sounding Like a No-No: Queer Sounds and Eccentric Acts in the Post-Soul Era
ISBN: 0472071793 OCLC: 824604892 University of Michigan Press 2012 Sounding Like a No-No traces a rebellious spirit in post–civil rights black music by focusing on a range of offbeat, eccentric, queer, or slippery performances by leading musicians influenced by the cultural changes brought about by the civil rights, black nationalist, feminist, and LGBTQ movements, who through reinvention created a repertoire of performances that have left a lasting mark on popular music. The book's innovative readings of performers including Michael Jackson, Grace Jones, Stevie Wonder, Eartha Kitt, and Meshell Ndegeocello demonstrate how embodied sound and performance became a means for creativity, transgression, and social critique, a way to reclaim imaginative and corporeal freedom from the social death of slavery and its legacy of racism, to engender new sexualities and desires, to escape the sometimes constrictive codes of respectability and uplift from within the black community, and to make space for new futures for their listeners. The book's perspective on music as a form of black corporeality and identity, creativity, and political engagement will appeal to those in African American studies, popular music studies, queer theory, and black performance studies; general readers will welcome its engaging, accessible, and sometimes playful writing style, including elements of memoir.