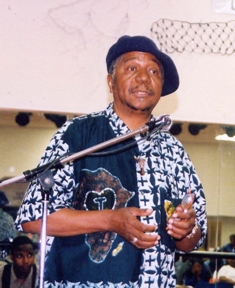 Eugene B. Redmond
Born:
December 1, 1937 in East St. Louis, Illinois
Pen Name:
None
Connection to Illinois
: Redmond was born in East St. Louis, Illinois, and is a Professor Emeritus at Southern Illinois University and currently resides in Edwardsville.
Biography
: Eugene Redmond is an award-winning African American poet, editor, and teacher who began his career in journalism. He has held positions as poet-in-residence at Southern Illinois University in Edwardsville, Oberlin College, California State University, and other institutions throughout North America. Eugene is an Emeritus Professor of English at Southern Illinois University Edwardsville and the editor of ''Drumvoices Revue'', He is an active voice in the local writing community as well as in national and international circles. As a founder of the Eugene B. Redmond Writers Club in East St. Louis, he continues to be instrumental in the lives of novice and experienced writers across the globe.
---
Awards
:
''The Eye in the Ceiling''
-- American Book Award, 1993 '''Other Awards
Primary Audience(s):
Adult readers
Email:
eredmon@siue.edu
Eugene B. Redmond on WorldCat :
http://www.worldcat.org/search?q=eugene+b.+redmond
---
Selected Titles
Drumvoices :
ISBN: 0385061684 OCLC: 2330887 Anchor Press/Doubleday, Garden City, N.Y. : 1976.
Seventeen :
ISBN: 9781620118511 OCLC: 795699995 Duke Classics, [Place of publication not identified] : 2012.
The eye in the ceiling :
ISBN: 0863163076 OCLC: 25596736 Harlem River Press, New York : ©1991.