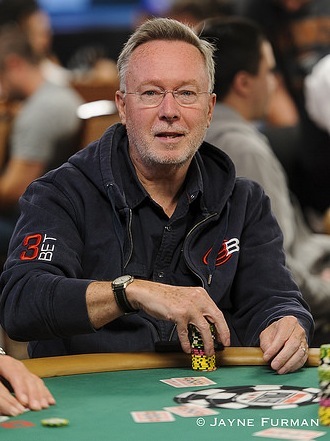 James McManus
Born:
1951 in New York City, New York
Pen Name:
None
Connection to Illinois
: McManus lives in Kenilworth and teaches at the Art Institute of Chicago.
Biography
: James McManus is a New York Times bestselling author. He is a poker player, teacher, novelist and poet. His work has appeared in ''The New Yorker'', ''Harper's,'' ''The Believer'', ''Paris Review'', ''Esquire'', and in Best American anthologies for poetry, sports writing, science and nature, and magazine writing. Both of McManus' degrees came from the University of Illinois Chicago - Bachelor of Arts in 1974 and Master of Arts in 1977. He currently teaches writing and comparative literature at the School of the Art Institute of Chicago, including a course on the literature and science of poker. McManus was interviewed by Dan Klefstad, Morning Edition Host & Book Series Editor of Northern Public Radio (WNIU/WNIJ/NIRIS) for the WNIJ Read With ME Winter Book Series. To access the December 28, 2015 interview, go to: http://northernpublicradio.org/post/education-poker-writer.
---
Awards
:
Going to the Sun - Sandburg Award, Society of Midland Authors Award, 1997
Positively Fifth Street - Society of Midland Authors Award, 2004
Cowboys Full - Society of Midland Authors Award, 2010
The Education of a Poker Player - Kirkus Prize for Fiction Nominee, 2015
Primary Literary Genre(s):
Fiction; Non-Fiction
Primary Audience(s):
Adult readers
E-Mail:
arramc@msn.com
Facebook:
https://www.facebook.com/jim.mcmanus.322?fref=ts
Wikipedia:
https://en.wikipedia.org/wiki/James_McManus
---
Selected Titles
Antonio Salazar is dead /
ISBN: 0960379401 OCLC: Chicago : Syncline, Chicago : ©1979.
Chin music :
ISBN: 0394621905 OCLC: New York : Grove Press, New York : 1987, ©1985.
Cowboys full :
ISBN: 0374299242 OCLC: New York : Farrar, Straus, and Giroux, New York : ©2009. From the Publisher: From James McManus, author of the bestselling Positively Fifth Street, comes the definitive story of the game that, more than any other, reflects who we are and how we operate. Cowboys Full is the story of poker, from its roots in China, the Middle East, and Europe to its ascent as a global-but especially an American-phenomenon. It describes how early Americans took a French parlor game and, with a few extra cards and an entrepreneurial spirit, turned it into a national craze by the time of the Civil War. From the kitchen-table games of ordinary citizens to its influence on generals and diplomats, poker has gone hand in hand with our national experience. Presidents from Abraham Lincoln to Barack Obama have deployed poker and its strategies to explain policy, to relax with friends, to negotiate treaties and crises, and as a political networking tool. The ways we all do battle and business are echoed by poker tactics: cheating and thwarting cheaters, leveraging uncertainty, bluffing and sussing out bluffers, managing risk and reward. Cowboys Full shows how what was once accurately called the cheater's game has become a mostly honest contest of cunning, mathematical precision, and luck. It explains how poker, formerly dominated by cardsharps, is now the most popular card game in Europe, East Asia, Australia, South America, and cyberspace, as well as on television. It combines colorful history with firsthand experience from today's professional tour. And it examines poker's remarkable hold on American culture, from paintings by Frederic Remington to countless poker novels, movies, and plays. Braiding the thrill of individual hands with new ways of seeing poker's relevance to our military, diplomatic, business, and personal affairs, Cowboys Full is sure to become the classic account of America's favorite pastime.
Curtains :
ISBN: 0961464402 OCLC: Chicago, IL : Another Chicago Press, Chicago, IL : ©1985.
Ghost waves
ISBN: 0802110290 OCLC: New York : Grove Press, New York : 1988.
Going to the sun :
ISBN: 0312423292 OCLC: New York, N.Y. : Picador/Farrar, Straus and Giroux, New York, N.Y. : 2004, ©1996.
Great America :
ISBN: 0060553472 OCLC: New York : HarperPerennial, New York : ©1993.
Out of the blue /
ISBN: 0517551446 OCLC: New York : Crown Publishers, New York : ©1984.
Physical :
ISBN: 0312426496 OCLC: New York : Picador, New York : 2007.
Positively Fifth Street
ISBN: 9780312422523 OCLC: New York : Picador : New York : 2004, ©2003. A chronicle of life in Las Vegas investigates the murder of poker player Ted Binion, revealing a secret world of kinky sex, black magic, and science lurking at the heart of gambling's World Series of Poker.
The education of a poker player :
ISBN: 1938160851 OCLC: In writing about poker Jim McManus has managed to write about everything, and it's glorious. --David Sedaris New York Times-bestselling author James McManus offers up a collection of seven stories narrated by Vincent Killeen, an Irish Catholic altar boy, in the late 1950s and early 1960s. Persuaded at age eight by his grandmother that entering the priesthood will guarantee salvation for every member of his family, Vince eagerly commits to attending a Jesuit seminary for high school. As the meaning of a vow of celibacy becomes clearer to him, however, and he is exposed to the irresistible temptations of poker and girls, life as a seminarian begins to seem less appealing. These autobiographical stories are enlightening and evocative, providing keen, often humorous insight into Catholicism, faith, celibacy and its opposite, as well as America's-and increasingly the world's-favorite card game. James McManus has been called poker's Shakespeare. He is the New York Times-bestselling author of Positively Fifth Street: Murderers, Cheetahs, and Binion's World Series of Poker and Cowboys Full: The Story of Poker, among others. He has been the poker columnist for the New York Times and currently writes the history column for CardPlayer. His work has also appeared in Harper's, The Believer, Paris Review, Esquire, and in Best American anthologies for poetry, sports writing, science and nature, and magazine writing. He has spoken about poker at Yale, Harvard, Google, Goldman Sachs, and on numerous media outlets, and is the recipient of the Peter Lisagor Award for Sports Journalism and fellowships from the Guggenheim and Rockefeller foundations, among other awards. He teaches at the School of the Art Institute of Chicago.