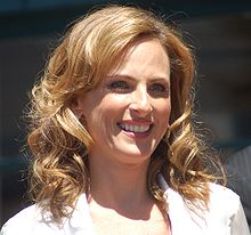 Marlee Bethany Matlin
Born:
1965 in Morton Grove, Illinois
Pen Name:
None
Connection to Illinois
: Matlin was born and raised in Morton Grove. She graduated from John Hersey High School in Arlington Heights and attended Harper College in Palatine.
Biography
: Marlee Matlin is an actress who at 21 was the youngest recipient of an Oscar for best actress. She received worldwide critical acclaim for her film debut in Paramount Pictures' 'Children of a Lesser God,' in addition to the Oscar, Marlee received the Golden Globe Award for Best Actress in a Drama.
---
Awards
:
Primary Literary Genre(s):
Fiction; Non-Fiction
Primary Audience(s):
Adult readers
Facebook:
https://www.facebook.com/marleematlin
IMDB:
https://www.imdb.com/name/nm0559144/
Twitter:
https://twitter.com/marleematlin
Web:
http://www.marleematlinsite.com
---
Selected Titles
Deaf child crossing /
ISBN: 0689822081 OCLC: Simon & Schuster Books for Young Readers, 2002. Despite the fact that Megan is deaf and Cindy can hear, the two girls become friends when Cindy moves into Megan's neighborhood, but when they go away to camp, their friendship is put to the test.
I'll scream later /
ISBN: 1439102856 OCLC: New York : Simon Spotlight Entertainment, New York : 2009. The compelling memoir of the Academy Award-winning actress and role model for 30 million deaf and hard-of-hearing people serves as an inspiration and a lesson in overcoming adversity.
Leading ladies /
ISBN: 0689869878 OCLC: New York : Simon & Schuster Books for Young Readers, New York : ©2007. A deaf fourth-grader finds her true calling when she is cast as Dorothy in a school production of The Wizard of Oz.
Nobody's perfect /
ISBN: 068986986X OCLC: New York : Simon & Schuster Books for Young Readers, New York : ©2006. Megan, a popular and outgoing fourth-grader, is sure that the perfect new girl dislikes her because she is deaf, but persistence and a joint science fair project help Megan see that the two girls have something in common after all.