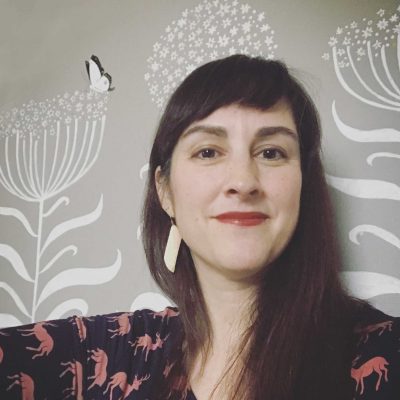 Beth Kander-Dauphin
Born:
Pen Name:
Beth Kander
Connection to Illinois
: Kander lives in Chicago.
Biography
: Beth Kander writes fiction, children's books and is an award-winning playwright. She has an MFA in Creative Writing from Mississippi University for Women, and also holds degrees from Brandeis University and the University of Michigan.Along with her plays and books, she has also written ebooks.
---
Awards
:
Primary Literary Genre(s):
Fiction; Non-Fiction
Primary Audience(s):
Adult readers; Children
:
---
Selected Titles
Glubbery Gray, the knight-eating beast /
ISBN: 1589808673 OCLC: 630478860 Pelican, Gretna, La. : 2010. Eight knights capture a terrible beast, but as they lead him away the line of captors becomes shorter and shorter, until the last one concludes that traveling with a famous knight-eating beast is unwise.
Original Syn /
ISBN: 1947003992 OCLC: 1027548053 Fifty years after the Singularity, the world is divided into two populations locked in a cold war: Synthetic Citizens, or Syns, human-computer hybrids with extraordinary enhancements and potentially infinite lifespans; and Originals, the individuals who did not merge their bodies with the machines. But the decades-long battle between Original and Syn is almost at an end, because the Originals are on the verge of extinction. One of the only young Originals left in the world, Ere, knows he might someday be the very last of his kind. But when he meets a beautiful, powerful Syn girl called Ever, he questions everything he's ever been told about his lifelong enemies. Original Syn is a rich, dangerous world of family secrets, free will, forbidden love, and all of the unexpected peril that arises when aggressive technology meets stubborn humanity.