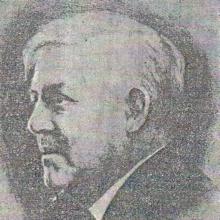 Earl Howell Reed
Born:
July 5 1863 in Geneva, Illinois
Died:
July 9, 1931 in Chicago, Illinois
Connection to Illinois
: Reed lived in Geneva and Chicago.
Biography
: Earl Howell Reed was a printmaker, photographer, and author. Initially, he worked as a reporter for the old Chicago Times and then he met Mr. Hutchinson, of the Chicago board of Trade, who introduced him to the business. He worked for twenty years as a grain broker in the Chicago Stock Exchange but retired in 1910 to pursue his interests in art and writing. He explored the area known as the Dunes on the southern and eastern shores of Lake Michigan and found there a landscape that compelled him to sketch and write. He authored The Voices of the Dunes in 1912 and followed by The Dune Country in 1916 and Sketches in Duneland in 1918. Reed brought so much attention to the Dunes and the need to conserve the natural habitat that the Indiana State Legislature established the Indiana Dunes State Park in 1923. As an artist he was primarily self-taught but in 1914 Reed wrote a manual on etching entitled Etching­: A Practical Treatise. In 1910, he was a founding member of and first president of the Chicago Society of Etchers, and also held memberships in the Chicago Camera Club, the Chicago Society of Artists, the Society of Midland Authors, the Writer's Guild, the Cliff Dwellers, and the Masonic Order.
---
Awards
:
Primary Literary Genre(s):
Illustrator; Non-Fiction
Primary Audience(s):
Adult readers
Web:
https://prabook.com/web/earl.reed/3758450
Web:
https://www.annexgalleries.com/artists/biography/1967/Reed/Earl
WorldCat:
http://www.worldcat.org/search?q=Earl++Howell++Reed
---
Selected Titles
Etching: A Pratical Treatise
ISBN: 1342603087 OCLC: Palala Press 2015 This work has been selected by scholars as being culturally important, and is part of the knowledge base of civilization as we know it. This work was reproduced from the original artifact, and remains as true to the original work as possible. Therefore, you will see the original copyright references, library stamps (as most of these works have been housed in our most important libraries around the world), and other notations in the work. This work is in the public domain in the United States of America, and possibly other nations. Within the United States, you may freely copy and distribute this work, as no entity (individual or corporate) has a copyright on the body of the work. As a reproduction of a historical artifact, this work may contain missing or blurred pages, poor pictures, errant marks, etc. Scholars believe, and we concur, that this work is important enough to be preserved, reproduced, and made generally available to the public. We appreciate your support of the preservation process, and thank you for being an important part of keeping this knowledge alive and relevant.
Four way Lodge
ISBN: 1376164671 OCLC: Andesite Press 2017 This work has been selected by scholars as being culturally important, and is part of the knowledge base of civilization as we know it. This work was reproduced from the original artifact, and remains as true to the original work as possible. Therefore, you will see the original copyright references, library stamps (as most of these works have been housed in our most important libraries around the world), and other notations in the work. This work is in the public domain in the United States of America, and possibly other nations. Within the United States, you may freely copy and distribute this work, as no entity (individual or corporate) has a copyright on the body of the work. As a reproduction of a historical artifact, this work may contain missing or blurred pages, poor pictures, errant marks, etc. Scholars believe, and we concur, that this work is important enough to be preserved, reproduced, and made generally available to the public. We appreciate your support of the preservation process, and thank you for being an important part of keeping this knowledge alive and relevant.
Sketches in Duneland
ISBN: 1347009310 OCLC: Palala Press 2015 This work has been selected by scholars as being culturally important, and is part of the knowledge base of civilization as we know it. This work was reproduced from the original artifact, and remains as true to the original work as possible. Therefore, you will see the original copyright references, library stamps (as most of these works have been housed in our most important libraries around the world), and other notations in the work. This work is in the public domain in the United States of America, and possibly other nations. Within the United States, you may freely copy and distribute this work, as no entity (individual or corporate) has a copyright on the body of the work. As a reproduction of a historical artifact, this work may contain missing or blurred pages, poor pictures, errant marks, etc. Scholars believe, and we concur, that this work is important enough to be preserved, reproduced, and made generally available to the public. We appreciate your support of the preservation process, and thank you for being an important part of keeping this knowledge alive and relevant.
Sketches in Jacobia
ISBN: B01M223A38 OCLC: Privately Printed, Toby Rubovits, 1919
Tales of a Vanishing River
ISBN: 1371641595 OCLC: Wentworth Press 2016 Tales of a Vanishing River by Earl H. Reed is a stunning collection of short stories and sketches. Although the names of people and places have been changed, the inspiration for this collection comes from the author's time spent near the Kankakee River in Northwest Indiana. It is expertly written and a surprisingly humorous, fictitious account of life in the area. Tales include The Vanishing River, The silver arrow, The brass-bound box, The "wether book" of Buck Granger's grandfather, Tipton Posey's store, Muskrat Hyatt's redemption, The Turkey Club, The predicaments of Colonel Peets, and His unlucky star.
The Dune Country
ISBN: 1340062895 OCLC: Sagwan Press 2015 This work has been selected by scholars as being culturally important, and is part of the knowledge base of civilization as we know it. This work was reproduced from the original artifact, and remains as true to the original work as possible. Therefore, you will see the original copyright references, library stamps (as most of these works have been housed in our most important libraries around the world), and other notations in the work. This work is in the public domain in the United States of America, and possibly other nations. Within the United States, you may freely copy and distribute this work, as no entity (individual or corporate) has a copyright on the body of the work. As a reproduction of a historical artifact, this work may contain missing or blurred pages, poor pictures, errant marks, etc. Scholars believe, and we concur, that this work is important enough to be preserved, reproduced, and made generally available to the public. We appreciate your support of the preservation process, and thank you for being an important part of keeping this knowledge alive and relevant.
The Ghost in the Tower: An Episode in Jacobia
ISBN: 935589953X OCLC: Alpha Edition 2022 This book has been considered important throughout the human history, and so that this work is never forgotten we have made efforts in its preservation by republishing this book in a modern format for present and future generations. This whole book has been reformatted, retyped and designed. These books are not made of scanned copies and hence the text is clear and readable.
The Voices of the Dunes
ISBN: B015TK56WW OCLC: Alderbrink Press 1912