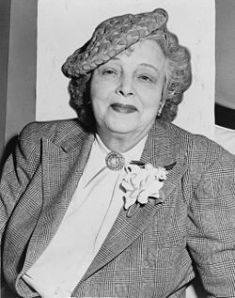 Margaret Caroline Anderson
Born:
1886 in Indianapolis, IN
Died:
1973 in Le Cannet, France
Pen Name:
Margaret Anderson, Margaret C. Anderson
Connection to Illinois
: Anderson moved to Chicago in 1908.
Biography
: During Chicago's Literary Renaissance, Margaret Anderson founded the avant-garde literary magazine, ''The Little Review''. From 1914 to 1929, the magazine featured a wide variety of transatlantic modernists and cultivated many early examples of experimental writing and art.
---
Awards
:
-- Chicago Literary Hall of Fame, 2014
Primary Literary Genre(s):
History; Non-Fiction
Primary Audience(s):
Adult readers
:
---
Selected Titles
Forbidden fires /
ISBN: 1562801236 OCLC: 33335725 Naiad Press, Tallahassee, Fla. : 1996. A romance between two women, one of whom is a lesbian, the other who is not. The other considers lesbian practices a sin, yet her love is such that she cannot help herself. The setting is America and Europe, the time the 1950s.
My thirty years' war;
ISBN: 0837154294 OCLC: 133400 Greenwood Press Westport, Conn., [1971] This is the autobiography of Margaret Anderson, who ran a literary magazine called The Little Review for 30 years ... from 1899 to 1929.
My thirty years' war;
ISBN: 0818002107 OCLC: 75385 Horizon Press New York, [1970, ©1969]
The fiery fountains;
ISBN: 0818002115 OCLC: 75928 Horizon Press New York, [1970, ©1969]
The strange necessity;
ISBN: 0818002123 OCLC: 73827 Horizon Press New York, [1970, ©1969]
The unknowable Gurdjieff. /
ISBN: 071001015X OCLC: 844552584 [publisher not identified], [Place of publication not identified] : [date of publication not ident